Creative England publishes its top 50 names of people and companies who are transforming the movie, television, technology and gaming industries – including two film-makers who have championed diversity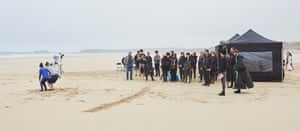 Make Up, a film by Claire Oakley, featured more women than men in the crew. Photograph: BAFTA/Jonny Birch
The maker of the country's first movie to feature a deaf cast, and a perfectly timed computer game that foresaw the public debate over data privacy are among this year's top 50 individuals and firms revolutionising the creative industries.
The groundbreaking movie features actors who sign their dialogue, leaving those who do not know British Sign Language to read subtitles. Although it is a first, Ted Evans, who was born deaf, is quick to point out that the film he is developing – a follow up of an earlier short film – is not solely for the deaf.
"Retreat just happens to be a story about a group of deaf people who communicate in sign language, and it is my hope that anyone can go and experience the film," he says.
"Deaf people enjoy going to the cinema and they love watching films so long as there are captions or subtitles and I hope to reverse that by bringing a unique film to a mainstream audience who don't understand sign language."
Evans believes many deaf people such as himself find watching films frustrating if there are no subtitles or there's overlapping dialogue. He also believes deaf people are often represented by film-makers who do not fully understand what it is like to have no hearing.
Film director Ted Evans
The UK creative sector contributes £92bn to the UK economy, according to data from the Department for Digital, Culture, Media and Sport. Despite this, Caroline Norbury, chief executive of Creative England, says the creative industries still struggle to get finance, yet they grow more rapidly than those in other sectors.
"The people and businesses featured in this year's CE50 are at the very forefront of creativity," she says. "Through their work – be it games, film or TV productions, interactive platforms or immersive experiences – they produce the original ideas, the entertaining content and the innovations that make this country truly world-leading in the creative industries.
"Creative England exists to fill the access-to-finance gap and continues to provide a combination of tailored investment and support to help creative businesses develop new business models, deliver products and services and take risks on innovation."
This year's CE50 list has been compiled with input from regional partners, including The Growth Company in Greater Manchester, Stoke-on-Trent city council, Cultivate Cornwall and NewcastleGateshead Initiative.
Among the CE50 list of ones to watch is Off Grid an action-packed gaming adventure that taps into the warnings of what could happen when people lose control of their personal data.
"In our game, characters leave a trail of metadata that the main player can use to socially manipulate them as well as hack into nearby items," says Rich Metson, co-founder of software developer Semaeopus.
The Chelmsford-based games studio features in the fourth annual CE50 list, which published on 24 May, a top 50 compiled by Creative England, a company that invests in and supports creative ideas, talent and businesses across the country.
It, together with Microsoft, has formed a partnership called Greenshoots to fund the Off Grid game.
Metson says: "I was at a speech back in 2011 by Eben Moglen, the free internet campaigner, who warned we wouldn't own the internet in a few years' time, it would be owned by data miners and governments instead.
"I didn't believe it could start to happen this quickly but thought it would make a great game where we not only raise an issue but it could also be fun to play."
The title is scheduled to come out in early 2019.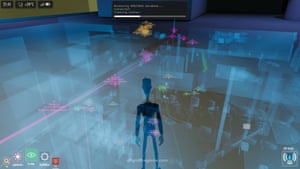 Samaeopus' Off Grid
Another top creative in this year's CE50 is Claire Oakley, who is in the final stages of filming her psychological thriller Make Up.

The writer and director has worked hard with her producer, Emily Morgan, to encourage women to work on the set and reports that on most days there are more women in the crew than men. Again, the project is timely as the film industry focuses on improving gender parity.
"It's an odd sight to see the monitor surrounded by women," says Oakley. "It's usually where you'd expect to find a bunch of men, but often there are just women round it when we're shooting."
Make Up stars Molly Windsor, who recently won best actress in the 2018 Bafta TV awards for her role in the BBC series Three Girls. It was developed and produced by Creative England's iFeatures programme, in partnership with BBC Films, the British Film Institute and Creative Skillset. It explores the sexual desires that Oakley believes adolescent women are encouraged to suppress.
"I read an article, which really struck a chord with me, that said women's magazines encourage young women to always practise self-control and contain their desires," says Oakley.
"I completely agree and so that's a major part of the film as our lead character begins to find out things about herself. It's an area you don't normally see from a female perspective, certainly not in a thriller."
Oakley expects to begin editing the film soon and is hoping to have it ready to take to festivals next year in the hope of securing cinema distribution deals.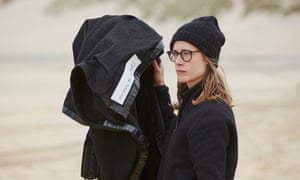 Writer and director Claire Oakley, on the set of her thriller Make Up. Photograph: BAFTA/Jonathan Birch
One firm the CE50 celebrates from the technology sector is Bulbshare. The startup is founded on the insight that governments and brands don't always get it right when they unveil new products and services, assuming they know what the public wants.
Bulbshare allows organisations to build online communities from their key audiences, so ideas can be tested before launch.
"We used to run an advertising agency that was all about social inclusion and helped brands base themselves around what young people were thinking," says Bulbshare co-founder and chief executive Matt Hay.
"We needed technology to scale it up so we could gather communities for the non-government organisations, government bodies and brands we work with to start really in-depth conversations before they launch their next product or initiative. The days of doing this from the top down are over, it's a broken model."
One stand-out example is a project Bulbshare is running with displaced Syrian refugees. They are using the service to pass advice to each other around the world and the insight this provides is proving invaluable to the UN refugee agency.